Driver Booster Pro
Driver Booster Pro is one of the most popular driver update tools worldwide. Driver Booster 6 expands its driver database with over 3,000,000 device drivers and game components which all pass WHQL to guarantee an accurate and secure driver update. It helps users detect all outdated/faulty/missing drivers and game components and keep them always up-to-date. Driver Booster Pro also enables intelligent auto driver update service while the system is idle to save a lot of users' valuable time. Most notably, Driver Booster for PC adds a brand new Boost module to bring users the best gaming experience by boosting the system with 1-click. Moreover, Driver Booster offers useful tools to help users restore the system, view system information, and fix the common but bothersome problems such as no sound, network failure, bad resolution, and device error.
It protects your PC from hardware failures, conflicts, and resolves system crash problems caused by outdated drivers. All old drivers can be detected by simply clicking on the "Scan" button, and then you just need to click "Update All" button to refresh these outdated drivers. Compared with other driver updating tools, IObit Driver Booster can improve your PC performance for gaming as well.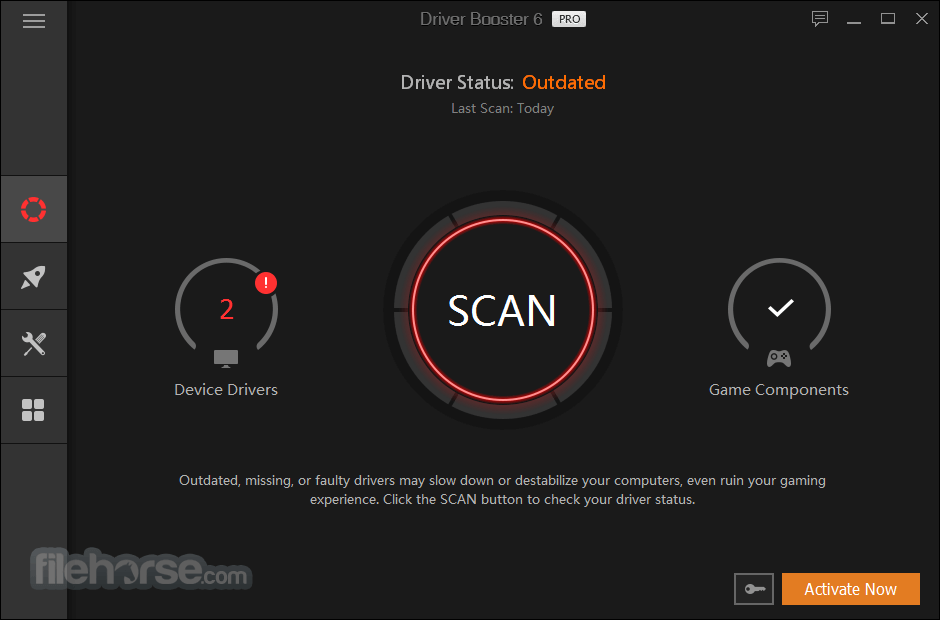 Driver Booster Pro is a powerful and easy-to-use driver updater. With the best 1-click solution and a large database, Driver Booster 6 can help you rapidly & securely update outdated drivers, install missing drivers, and fix incorrect drivers. By solving these driver issues, it keeps your PC away from system crash, BSOD, no audio, bad resolution, network failure, etc. to increase your system compatibility and stability while saves you plenty of time and effort. Besides, the brand new feature -Boost in Driver Booster 6 offers very easy solutions for ultimate gaming experience and top system performance.
What's New:
Expanded driver database – Escalated database for more driver updates
Driver roll back feature – Easily restore drivers to previous version once unexpected happens
Faster download speed – Available for both PRO and FREE users, faster than any previous version
Brand-new UE & UI – Improved the GUI to be simple, concise, and easy for smoother user experience and supported font size adjusting
Online database update – This update method ensures drivers are always the latest
Smart Installation Mode – Enjoy gaming or other full screen tasks better without any interruption
Small size VS big space – More valuable space are saved with small program setup file and sharply reduced driver installation packages
Enhanced Rescue Center – Strengthen restore feature to maximumly ensure your computer's security once unexpected happens
Supported game components – Supported the scanning for game components for gamers and you can also set to not scan them
Supported unplugged devices – Supported the scanning for unplugged devices and pre-installing right drivers for easy plug and play
Improved feedback – Supported file attachment when submitting a feedback
Supported Windows 10 Preview
In Game Boost Configuration, some unnecessary services/processes are already selected by default, so you only need to click the Turn On button to end them and boost your computer for better gaming. Or you can click the Configure text link and select the items you want to end to boost your game performance.
System Optimize helps clean up junk files, privacy traces and redundant registry entries, optimize your internet speed and system with the all-in-one product Advanced SystemCare. If you haven't installed Advanced SystemCare yet, clicking the Optimize button will guide you to install Advanced SystemCare for further optimization. Or click the Details text link to view all the items can be optimized. And click the Install to Optimize button to install Advanced SystemCare to optimize them.
Driver Booster Pro provides you with 7 useful tools: Rescue Center, Fix No Sound, Fix Device Error, Fix Network Failure, Fix Bad Resolution, Clean Unplugged Device Data, and System Information. These tools can help detect and fix some common problems like no sound, network failure, wrong resolution, clean unplugged Device Data, and check the system & hardware information. Besides that, the tool Rescue Center can backup drivers, restore your drivers and restore your system to a previous good status. You can use these tools anytime by clicking the icon tools tab icon on the left side of the main interface and clicking the tool you need.
Auto Driver Update is a PRO exclusive feature. You can check it in the Settings. If the 'Automatically update drivers while the system is idle' option is ticked, Driver Booster 6 will automatically 'download' the updates or 'download and install' the updates in the background when your system is idle. If you tick the 'Download and install driver & game component updates' option, you can also select the types of drivers which you want to update automatically.
Restore Driver Updates
To minimize the bad effect of any unexpected issues caused by driver updates, Driver Booster 6 provides 3 strategies for easily repair: Driver Roll Back, Driver Backup and Driver Restore, System Restore.
Driver Backup and Driver Restore
Click the tools tab icon icon on the left side of the main interface and open Rescue Center. If there is any driver version available for backup, it will be listed under Driver Backup tab. To back up them, just tick the checkbox before them and click the Back Up button. Backup Version indicates the version you backed up for that driver while Current Version means the driver version you installed at present. If you find Current Version is newer than Backup Version, you can back up that driver again to its latest installed version.
Requirements: Windows XP / Vista / Windows 7 / Windows 8 / Windows 10
Author: IObit Lab
Latest Version: Driver Booster Pro 6.2.1 (32-bit / 64-bit)
Filename: db-install.exe
TrustRank: We give this software a Trust rating of 10 / 10
File Size: (20.5 MB) Safe & Secure