Unchecky
Unchecky automatically unchecks unrelated offers during the installation process, both saving you mouse clicks and making it less likely to miss a checkbox of an unwanted offer.
Have you ever felt, while installing software, that the installer tries to push additional unwanted programs at all cost? Ever missed a checkbox, and spent hours afterwards removing adware? Ever opened your browser after an installation, only to find out that you have a new homepage, a new search engine, or even a new browser? Unchecky aims to keep potentially unwanted programs out of your computer.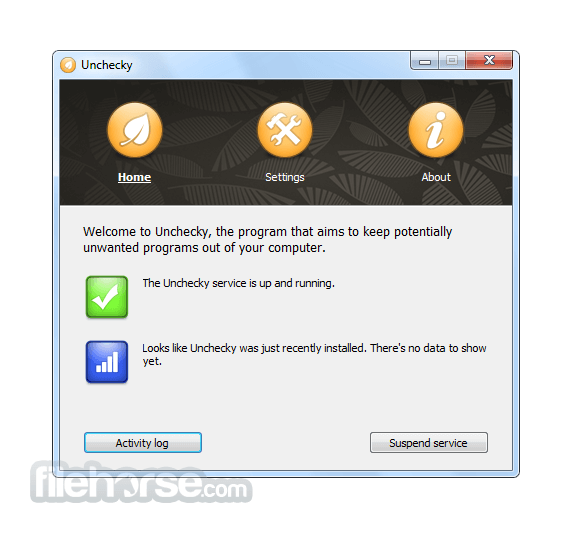 My antivirus flags Unchecky as malicious
It's a false positive. Please report about it to your antivirus company. Note that Unchecky was tested thoroughly by FileHorse and was found 100% clean.
How do I uninstall Unchecky?
Unchecky can be uninstalled from the Windows Control Panel, like any other program. See instructions for Windows 10 or Windows 7. If the standard method fails, please try to use the Unchecky Cleaner Tool, which is designed to uninstall corrupted Unchecky installations.
Is it possible to install Unchecky silently?
Yes, run the installer with the -install command line switch. For a list of supported command line switches, run unchecky_setup.exe -?.
What are the system requirements for Unchecky?
Unchecky supports Windows XP and above.
Installers often try to sneak additional programs as a natural part of the installation. Unchecky warns you when you try to accept a potentially unwanted offer, which makes it less likely to be accepted accidentally. Install and forget. Unchecky automatically updates whenever a new version is available, so you don't have to worry about running the latest version.
Requirements: Windows XP / Vista / Windows 7 / Windows 8 / Windows 10
Author: Reason Company Software Inc.
Latest Version: Unchecky 1.2 (32-bit / 64-bit)
Filename: unchecky_setup.exe
TrustRank: We give this software a Trust rating of 9 / 10
File Size: (1.3 MB) Safe & Secure